MAY 5
"News of the tragic slayings of four Kent State University students shocked the nation. On college campuses, protests took on new meaning. Demonstrations became more quiet and peaceful as students mourned the senseless murders. Many universities were closed, mainly to prevent further violence. Iowa State, [however], remained open, but student opinion solidified and normally apathetic students worked toward a common goal of limiting the scope of the Indochina War" (Bomb 1971, p. 44).
To protest the Cambodian Invasion and the Kent State killings, the Senate of the Government of the Student Body (GSB) of Iowa State University voted, 15-11, on May 5 for a 24-hour strike beginning at noon the following day, Wednesday, May 6, to be accompanied by a mass rally (Bomb 1971, p. 44) (see Figures 11 and 12).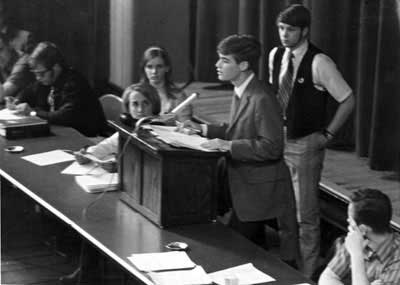 Figure 11. President of the Government of the Student Body (GSB), JERRY SCHNOOR, addressing the GSB Senate on May 5. Vice-President of GSB, JERRY PARKIN, wearing vest, is seen standing.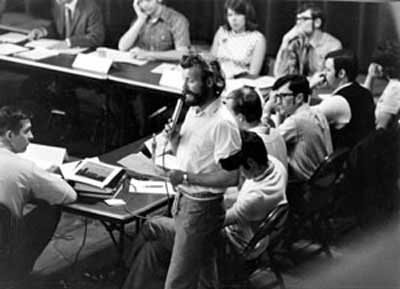 Figure 12. BOB TREMBLY, an undergraduate student activist and Vietnam War veteran, was one of several who addressed the GSB Senate, in support of a strike vote.
The university newspaper, the Iowa State Daily, endorsed the protest. Its editors, however, "warned against resorting to the violent tactics 'of the power structure' and urged students to refrain from 'seeking vengeance for those killed in Vietnam and now those killed on our campuses'" "… [T]he Daily urged students to join the strike and attend the memorial services on May 6 on central campus" (Swan, 1998, p. 23).