MAY 8
The PYLE Office Building "would be the site of two more days of student protest. On Friday, May 8, some 150 people rallied in an effort to ensure that no one would be drafted from Story County that day" … (Swan, 1998, p. 25) and no one was; the building remained closed to allow the remaining fumes from the tear gas canister to dissipate (Gilbert, 1970, May 9, p. 1)
A group of the protestors had spent the night in the parking lot outside the building. At the request of ROBERT PYLE, and by the order of [Ames, Iowa] Assistant Police Chief Tom Lyttle, the protestors moved from the building grounds across the street to city property to an area christened 'Tulip Park' for the flowers planted by the protestors during an October 1969 march on the Draft Board headquarters (Gilbert, 1970, p. 1) (see Figure 32).
As a goodwill gesture, protestors prepared and presented a chocolate cake with the inscription 'Peace NOW' in white frosting to City Attorney James Bishop. The cake was eventually given to Ames police guarding the entrance to the PYLE Office Building" (Gilbert, 1970, p. 1) (see Figure 33).
Figure 32. Gathering of protestors across the street from the PYLE Office Building.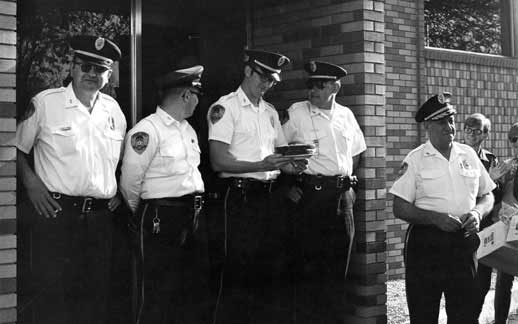 Figure 33. Ames police in front of closed PYLE Office Building with 'Peace NOW' cake given by demonstrators.