Hieronymus Bock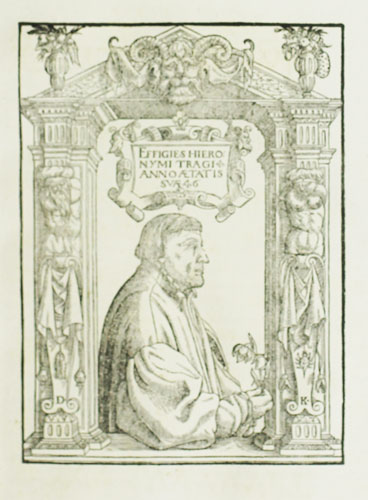 Hieronymus Bock as depicted in New Kreuterbuch
Hieronymus Bock was born in Heidelsheim or Heidersbach, Germany in 1498. His parents intended for him to become a monk, however he became a schoolmaster instead. He later managed the gardens for Count Palatine Ludwig in Zweibrucken from 1523 to 1533. He lost his job when Ludwig died; Ludwig's Catholic successor did not want a Lutheran working for him. Bock became a Lutheran pastor at Hornbach until his death in 1554. He also was a physician. He was asked by Brunfels to write a botany book in German.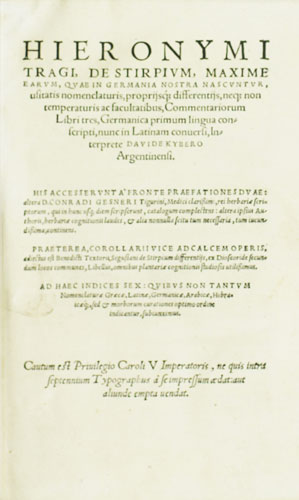 Bock's New Kreuter Buch was first published in 1539 in German and did not include illustrations because Bock could not afford them. Following editions beginning in 1546 included illustrations. The herbal was widely known after its publication in Latin in 1552. It used some woodcut blocks from Fuchs' Herbarum Vivae Eicones.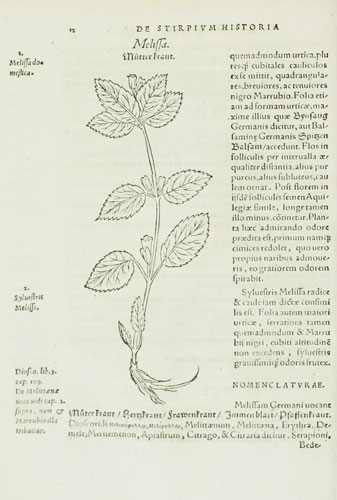 Melissa (also known as Lemon Balm) featured in New Kreuter Buch
Bock was one of the first botanists to excel at writing descriptive records of plants, called phytography. Instead of solely relying on historical descriptions, he went out and observed nature to write his own descriptions. He was also the first botanist to recognize the need for botanical classification. He organized his herbal by the resemblance of the plants. His intricate descriptive records in the herbal led to its popularity: at least twelve more editions were printed.
Call Number: Iowa State University Library Special Collections QK41. F951d