Home
History
About
Donors
Locate
Cookbooks
Collection
Highlights
Additional
Resources

Robert F. Smith is a retired army cook and cook book collector from What Cheer, Iowa.

Mr. Smith was born in What Cheer, Iowa in 1929, and began collecting cookbooks while serving in the United States Army from 1946-1968.

He is a World War II, Korean War, and peace time veteran. In his retirement, he has continued to collect cookbooks, as well as authoring two of his own. In 1992, he generously donated nearly 12,000 pieces to the Iowa State collection including both cook books and cooking ephemera of all kinds.

Iowa Organizations - For the past 20 years, Iowa organizations such as churches, women's groups, historical societies, and libraries, have donated books to the Iowa Cookbook Collection.

Many of these books include histories and other information about the organizations. The collection has been increased by literally hundreds of cookbooks simply through the giving of individuals and organizations in Iowa.
Alice Westrum (excerpts from a letter dated 2/13/2001 to D. Shonrock)
"..I was the oldest girl of seven children so I learned to cook at a very early age. My mother was a wonderful cook and I learned by watching her. By the times I was 10 years old I had learned to bake bread and that was the beginning of my love of cooking and baking. I had saved many of Mother's recipes while growing up and tried and collected recipes for 48 years of my married life.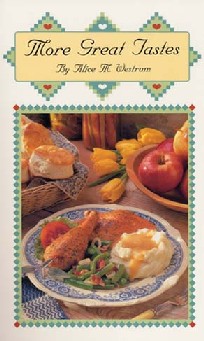 I worked 13 years as head cook at Trinity Lutheran Church and School in Boone, Iowa. As I made out menus, I would enlarge my recipes to serve 80-100 or more people. When I retired I decided to put my recipe collection into books so I could save time looking for the right recipe. This is a 60 year old collection and over 1600 recipes. After publishing the first set we decided to make a third book called Great Tastes in Quantity for those who like to cook for large crowds. After retiring my husband and I did a lot of catering for crowds of 100-300 people… Many thanks to my mother - I have enjoyed the art of cooking and baking for 55 years and now it is time to hang up my apron."