Iowa State Mourns
Margaret MacDonald Stanton died on Thursday, July 25, 1895. Her funeral was held in the College Chapel in Morrill Hall the following Sunday in place of the usual Sunday service. The entire student body was in attendance, as were many townspeople, filling the Chapel to its capacity of 650. Pall bearers were Physics Professor W.S. Franklin, Chemistry Professor Alfred A. Bennett, Veterinary Medicine Professor Millikan Stalker, Zoology Professor Herbert Osborn, Ames banker Wallace Greeley, and Ames real estate agent Marcellus K. Smith. President William Beardshear and English Professor W.H. Wynn both gave eulogies. Burial was held in the college cemetery, with a brief service given by President Beardshear, and a song, "The Beautiful Land" by the college choir.
Mrs. Stanton was widely mourned:
…In the death of Margaret Stanton…the state has lost the influence and example of one of its best women.
Iowa State Register
July 31, 1895
We realize that Mrs. Stanton, as a member of the first faculty of the college and for a number of years holding a most responsible position in it, did much to form its history and establish its position as an educational institution. In all of our efforts as a faculty and as individuals to build up and promote the interests of the college, we shall find in her memory a constant inspiration.
Faculty Resolution
August 12, 1895
The opening of the present college term is shrouded with a pall of profound sorrow at the death of Mrs. Stanton.
The IAC Student
July 30, 1895
Her family was devastated. Her parents and siblings said, "We all looked to Maggie as a mainstay." Daughter Margaret said, "I never can do anything wrong when I think of Mamma." Husband Edgar said, "It was heavenly to live with her…All that I can do is to say Thy will be done, and my comfort is that she whom I loved so much is today an angel." Even many years later, her sister Mary MacDonald Knapp spoke of her eldest sister with reverence and love—"She kept our father going financially and was to the younger children an example and a beloved sister—companion, mother. I can almost never think of her without a prayer to this day."
At the time of Margaret Stanton's death, a new dormitory building for women was being completed on the site of today's LeBaron Hall. It was decided to name this building Margaret Hall in memory of Mrs. Stanton. Dr. Stanton, in appreciation for this gesture, offered to buy a chime of bells to be placed in a tower to be added to the building. It was found that Margaret Hall's framework would not support a tower, so it was decided that a separate structure would be built for the bells nearby.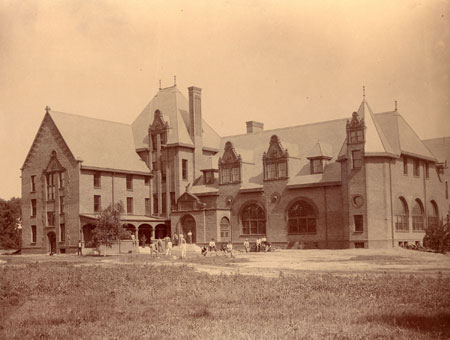 Margaret Hall, with building crew, 1895.
The Campanile was designed by George Hallett, a Des Moines architect, at no charge. His firm, Nourse and Hallett, was also responsible for the design of Margaret Hall. The "Margaret Chimes," a set of ten bells, were purchased from the Taylor Bell Foundry in Loughborough, England. They arrived in Ames in October 1899 and were hung that winter. The bells immediately became an integral part of campus life:
Clear, complete, musical, came the message of the bells as each student, new and old heard the greeting of the chimes. A new tie is formed and the campus that we all love is still more charming—still more dear to our affections.
The Student
February 20, 1900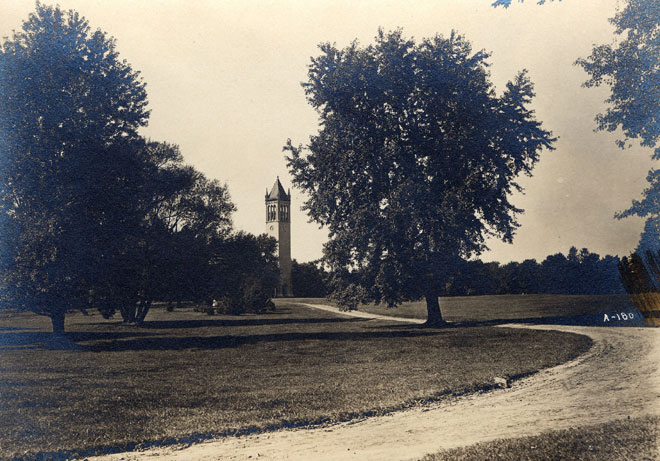 Campanile, taken from the front of the Farm House, September 21, 1905