Edgar and Margaret Stanton
Margaret MacDonald married Edgar Williams Stanton on February 22, 1877. Edgar Stanton was then an Assistant Professor in charge of the Mathematics Department and Secretary to the College Board of Trustees. Through the years he would serve Iowa State as Secretary of the College, Dean of the Junior College, Vice President, and four times as Acting President.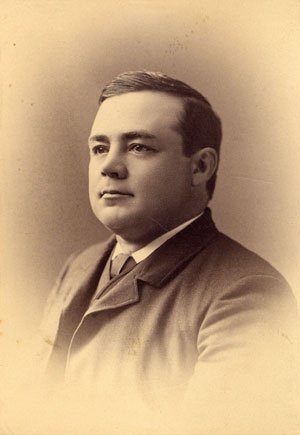 Edgar Stanton, 1885
Their marriage came as a surprise to some in the community. Mary B. Welch, a fellow faculty member and wife of Iowa State's first president, Adonijah B. Welch said when she learned of it:
Mr. Welch was brighter than I. He guessed at once who it was when Mr. Stanton told him he was thinking of being married this winter…Before Mr. Stanton told Mr. Welch I said, 'Mr. Stanton, is Miss MacDonald going to be married this winter? Mr. Stalker told Miss Locke she was but I do not believe it.' Mr. Stanton replied so quickly, 'Mr. Stalker didn't say anything to me about it.' 'Well,' I replied, 'it must be to you or Mr. Lee or to Mr. Stalker himself. She will make someone a mighty good wife.
All the students and many of the single faculty members lived in Old Main during the early years. The Stantons continued to live in the building until 1879, when The Maples became available. The Maples, located on the current site of Music Hall, was one of several faculty dwellings then located on campus. Margaret Stanton continued to teach through Fall Semester of 1878, then submitted her resignation effective March 1, 1879.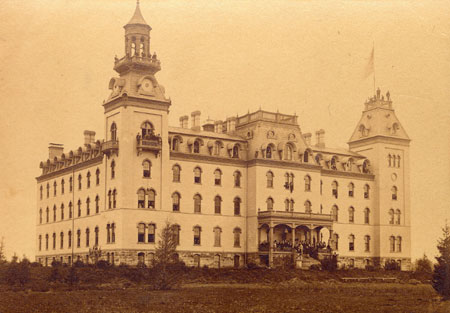 Old Main, ca. 1879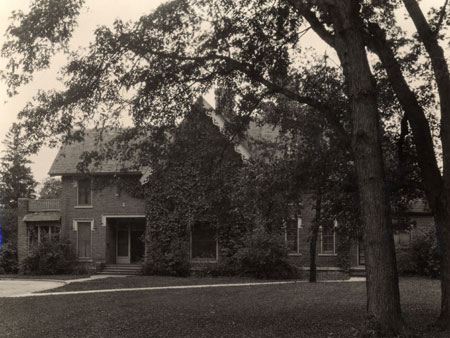 The Maples, 1923
The Stanton home was a center for campus social life. Returning alumni, members of the Board of Trustees, and other friends of the college were frequent guests. Soon The Maples also housed a growing family: Edwin MacDonald (Don), born in 1879; Roger Williams, born in 1882, who died in infancy; Margaret Beaumont, born in 1883; and Edgar Williams Jr., born in 1887.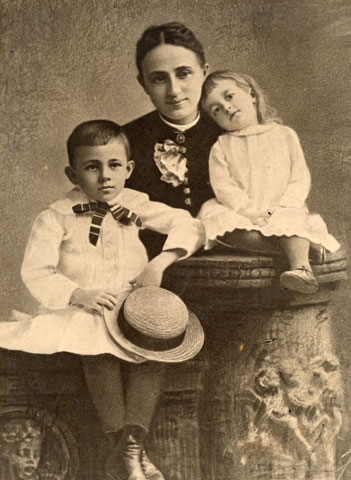 Margaret, Don, and Margaret Beaumont Stanton, 1887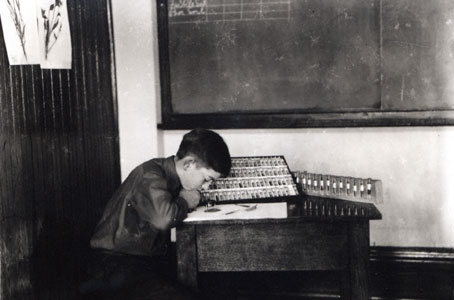 Edgar Williams Stanton Jr.,
During these early days of Iowa State, the campus was still somewhat remote from the city of Ames. College faculty and staff and their children frequently socialized together. One annual tradition was a large July 4th picnic held on the Central Campus. On July 4th of 1895, Margaret Stanton prepared food for her family to take to the picnic, but did not feel well enough to attend. Her condition grew worse, and she died on Thursday, July 25, 1895.
Edgar Stanton married again on December 21, 1899. His second wife, Julia Ann Wentch, was an 1888 graduate of Iowa State who taught in the Mathematics Department. According to Stanton's daughter Margaret, "In his second marriage Mr. Stanton found the same strong helpful, unselfish companionship. She, too, was devoted to the institution." Edgar and Julia Stanton had one daughter, Barbara.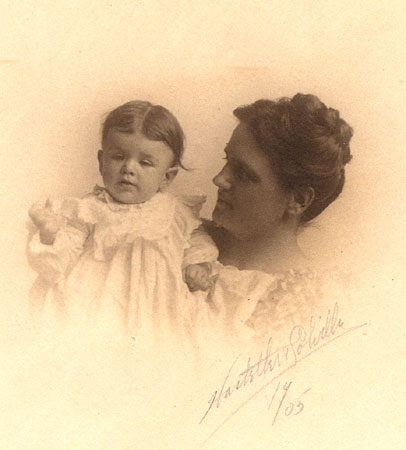 Julia and Barbara Stanton, 1905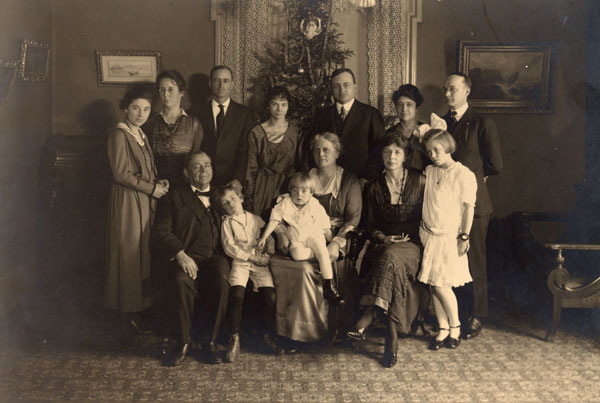 Stanton Family Christmas, 1919
Edgar Williams Stanton passed away September 12, 1920 at a sanitarium in Canandaigua, New York. He was in New York under the care of his son, Don, who was a surgeon in Schenectady. Like many others on the campus, Dr. Stanton had succumbed to Spanish influenza during the 1918 epidemic. His recovery from the illness had been difficult. He also suffered from complications of diabetes.
Dr. Stanton laid in state in Beardshear Hall from 10:00 a.m. to 2:00 p.m. on September 16. The funeral was held on the grounds of his home, The Gables, with more than 1,000 people in attendance. He was laid to rest next to Margaret in the college cemetery at sunset that evening.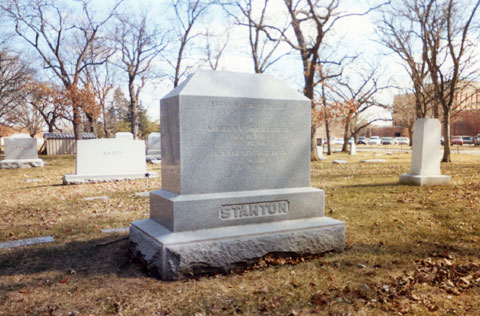 Stanton Family Memorial, University Cemetery, March 2005
In his will, Edgar Stanton provided bequests to his family and then requested that the residue of the estate be given to Iowa State to provide a memorial in his name. Julia Stanton and the four children decided to provide the college with the money to add 26 additional bells in the Carillon, to then be known as the Edgar W. and Margaret MacDonald Stanton Memorial Carillon. These bells were also ordered from the Taylor Bell Foundry, and were hung in the Campanile in August of 1929. A dedication concert was played October 6, 1929 by world-renowned carilloneur Anton Brees.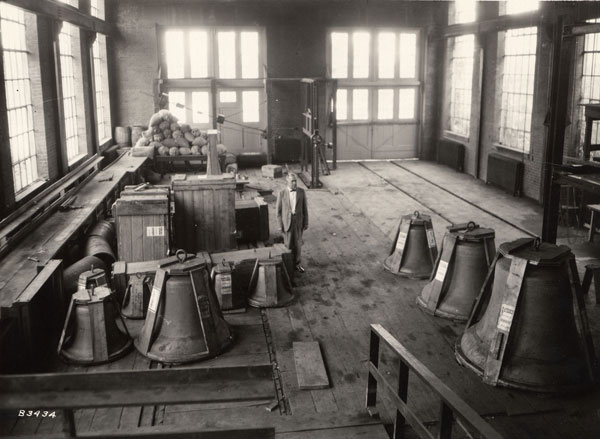 College Treasurer Herman Knapp with the new bells in the Transportation Laboratory, August 1929. Note the railroad tracks in the floor. This building, on part of the site of today's Hoover Hall, was used by the Mechanical Engineering Department for automobile and locomotive testing. There was a spur to the building from the Fort Dodge, Des Moines and Southern Interurban line which ran through the campus.
Sadly, Julia Stanton never heard the additional bells played. She died very suddenly of a heart attack December 14, 1928, shortly after finalizing the arrangements for the new bells. Her funeral was held December 18 in MacKay Auditorium, with President Raymond Hughes presiding. She, too, rests in the college cemetery, next to Edgar Stanton.