The Lineup: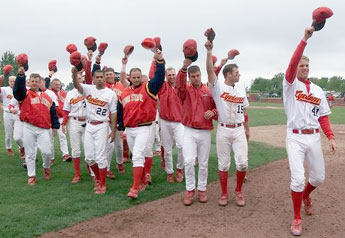 Bill Niebergall, Courtesy of the Des Moines Register
Spring is always a rough season for baseball players. They spend their days throwing until their shoulders burn, running and diving into the dirt, and standing still while someone throws a ball as fast as he can towards the, but the spring of 2001 was a particularly stressful one for the boys on the Iowa State team.
The beginning of April, instead of bringing the traditional hope that comes with imagining the possibilities for the season ahead, brought an announcement that pulled the rug out from under collegiate baseball in Ames.
The headlines told the story: the shock, dismay, and sadness felt by players, coaches, alumni, and fans.
Athletic director Bruce Van de Velde emphasized financial difficulties in his announcement and blamed the expense of participating in the Big XII conference. He cited extended travel costs, unequal revenue, inclement weather, and Title IX restrictions as factors in the decision.
Coach Lyle Smith was stunned by the decision, but was able to put things in perspective, "Looking at this whole chain of events, the memories , the efforts, the players we've had, the passion that they've all played with , the support we've gotten from people in the past... those things always last. The good wins, the tough losses, those things will always be with our kids."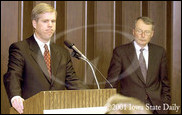 Missy Idso, Courtesy of the Iowa State Daily
Athletic Director Bruce Van de Velde and Interim President Richard Seagrave make the announcement, April 2, 2001
"Iowa State decision stuns coaches, players" - Ames Tribune April 3, 2001
"Tears flow as Cyclones say final goodbye" - Ames Tribune May 19, 2001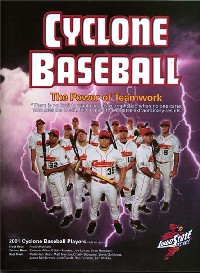 The final media guide, 2001
Players reacted in a similar fashion. "Our initial reaction was just shock and we were just kinda mad that this happened and there's nothing we could do about it," sophomore pitcher Lincoln Mincks said. "It's just upsetting, and I'm still in shock right now."

"It hurts because you don't like to see your program disappear," said Spencer Allen, a senior second-baseman. "I wanted to still be a part of it when I left, but now it's gone."