The Lineup: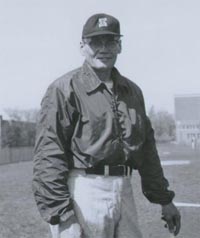 "Cap" Timm, 1959
L. C. "Cap" Timm's influence on baseball at Iowa State cannot be overstated. He began coaching here in 1938, left to join the war effort in 1942, returned in 1947 and retired after the 1974 season with a record of 340 wins, 373 losses and 5 ties. Among them were two appearances at the College World Series, two consecutive Big Eight Conference titles – 1970 and 1971, which were the last of four conference titles the team won for Timm -- and which proved to be the school's final conference baseball championship appearance.
Timm's philosophy and strategies did not disappear with his retirement, however; they lived on through his "descendants": Timm was followed by assistant coach Clair Rierson who played under Timm until graduating in 1962 and began coaching under him in 1967. Rierson was succeeded by his assistant, Larry Corrigan, who was followed after four years by his assistant Bobby Randall. Lyle Smith, Randall's pitching coach, took the helm in 1995.
Cap Timm's reach extended beyond Ames as well. In a 1957 letter to Iowa State President James Hilton, Ethan Allen, Past President of the American Association of Baseball Coaches, commended Timm: "This is to inform you of the fine work Timm did as clinic chairman of the recent convention. He organized a three-day clinic that was termed the best in our history. As part of his presentation he furnished a lengthy brochure which should be included in the library of every athletic department."
Timm was also a member of the NCAA Baseball Rules and Tournament Committee for 11 years; spent considerable time elevating the American Association of College Baseball Coaches, serving as president in 1959; almost single-handedly shaped the College World Series of Baseball and coached the U.S. team to its first championship in the Pan-American games. He was a member of the Iowa Baseball Hall of Fame, the College Baseball Hall of Fame, College Coach of the Year (1957), Conference Coach of the Year (1957, 1970) and winner of the prestigious Lefty Gomez award (1970), "presented by the American Baseball Coaches Association each year to an individual who has distinguished himself amongst his peers and has contributed significantly to the game of baseball locally, nationally, and internationally".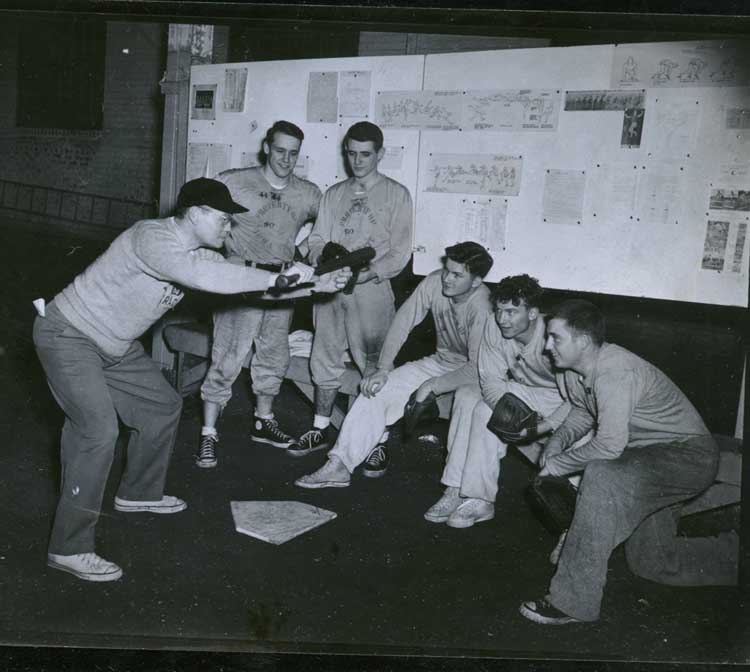 "Cap" Timm demonstrating how to bunt, ca. 1955
As part of his activity with professional associations, Timm was a proponent of standards and especially safety. In a 1973 letter to the Chair of the NCAA Baseball Rules Committee he emphasized the need for not only the unification of amateur rules, but also instituting safety standards for helmets, including earflaps, thereby ending what he termed "a hoax on our players in regard to their personal safety."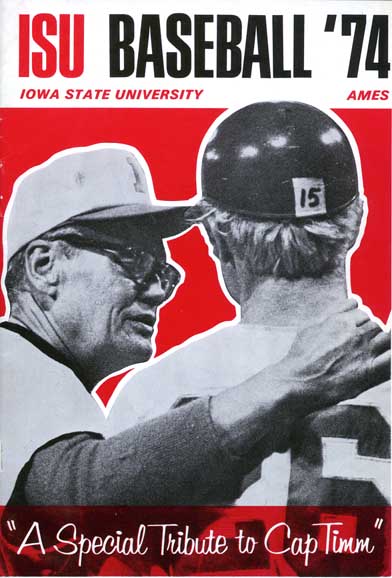 1974 media guide, filled with letters from friends and colleagues offering memories and highlights from "Cap" Timm's career on the occasion of his retirement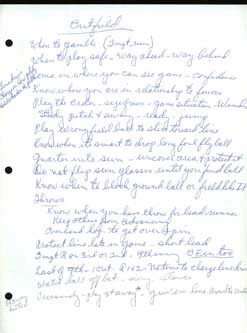 "Cap" Timm's notes on how to play the outfield [click for enlarged version]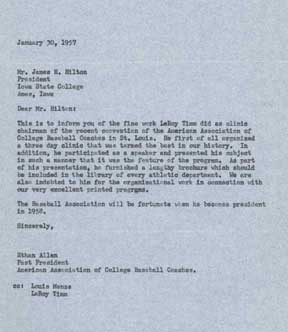 Letter from past president of American Association of Baseball Coaches Ethan Allen to Iowa State President James Hilton commending Timm. [click for enlarged version]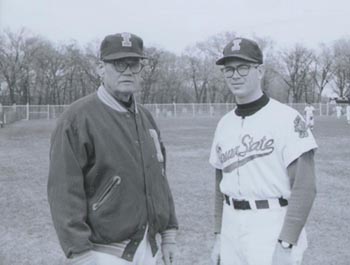 Cap Timm with Clair Rierson, 1967
One former player who went on to play for the Chicago Cubs and the San Francisco Giants, Dick Bertell '57, paid tribute to Timm: "It is difficult for most people to be both a coach and a man. Throughout the time that I played for Cap, his overriding concern was with the young man himself and not the baseball ability. The character he helped develop in many of the young men that came in contact with him makes him truly a "very special person". I could say many other words trying to express my thoughts on Cap, but the best think I could think to say would be "I wish my son could play for him."
LeRoy C. Timm passed away August 7, 1987. He was inducted into the Iowa State Hall of Fame in 1997.