CY AND HOMECOMING
Cy's Birthday: Homecoming 1954!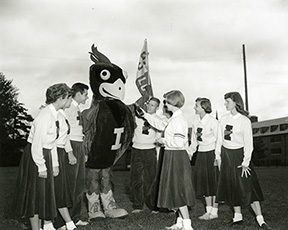 Cy and the Pep Squad in 1954
Cy has been a part of Iowa State's Homecoming celebrations ever since he was officially introduced to the world at the 1954 Homecoming. How had this "birthday" come to be? Iowa State's Pep Council had thought it would be a great idea to have a symbol of new spirit for Cyclone athletic teams, and started work on a mascot for Iowa State. A cardinal was chosen because it would be easy to decorate and would represent the entire school. The Pep Council sponsored a contest for the mascot's name, and alumna Wilma Beckman Ohlsen of Ames was credited with the winning entry of "Cy".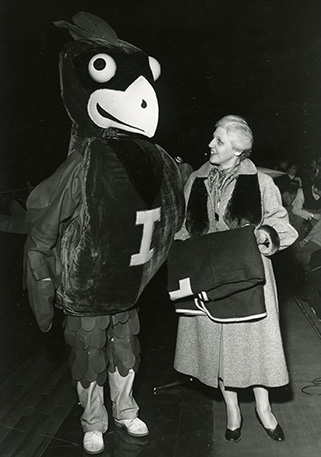 Cy and Wilma Beckman Ohlson of Ames. Ohlson won the national "Name-the-Bird" contest by being the first of seventeen people to submit the name "Cy." She is holding her first place prize - a personalized "I" blanket.
Since Cy's first appearance at Homecoming 1954, many Homecoming activities have taken place with Cy as a central part of the action:
In honor of Cy's second birthday in 1956 a birthday cake with two candles was formed by the card section, and the cheering section sang "Happy Birthday" to kick off the Homecoming game.
In 1968, Cy flew into the football game by helicopter.
Cy Hunt
A Cy Hunt took place in 1977 when students were offered a $50 reward for finding a six-inch hidden Cy doll. Clues for the scavenger hunt were given in the classified ads in the Daily. In 1978, this event was called the Little Cy Treasure Hunt.
Baby Cy
In 1978, a "Baby Cy" contest was held as part of Homecoming. The four winners shared the limelight with Cy during halftime of the football game, and one of the baby Cys appeared at sporting events for the next several years. The baby Cys were children who competed to earn the title by dressing up like Cy and trying to act like him. The baby Cys were then decided at a judging contest in North Grand Mall.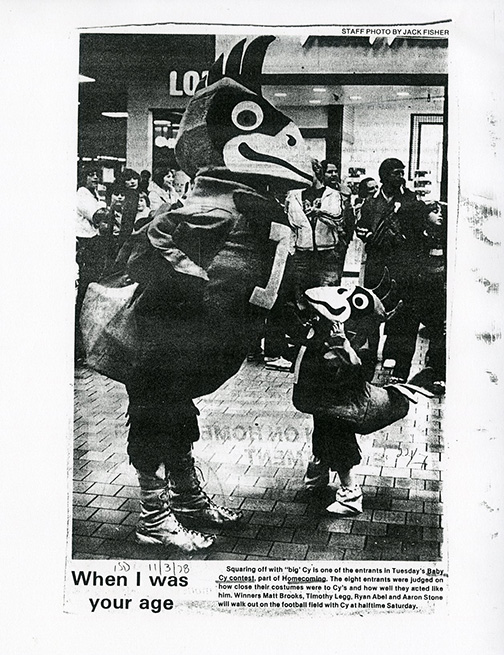 Thanks God It's Cy Day
In 1979, afternoon classes were cancelled on the Friday of Homecoming, giving the day the name "Thank God It's Cy Day". Intramural competitions were held in the afternoon. In 1958, this Friday was called "Cy's Union Holiday", with a dance as the main feature of the celebration. As had happened on and off since the first Homecoming in 1912, in the following years, classes were typically cancelled for the Homecoming festivities.
Cy's Favorite Alum

Since 1955, the Department of Athletics and the Alumni Association annually recognize a loyal graduate or contributor by awarding them and naming them "Cy's Favorite Alum." The award is presented to the recipient by Cy during the halftime ceremonies of the Homecoming game.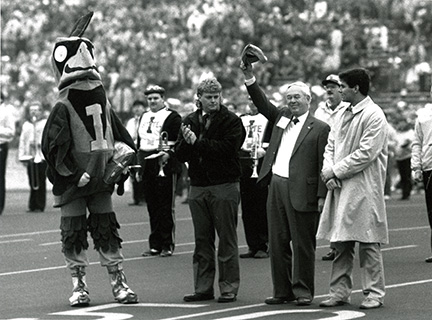 1987 Homecoming Halftime presentation of Cy's Favorite Alum, Robert Eddy. Also pictured are General Co-Chairs Marty Epy and Terry Helphrey.
Cy's Favorite Alum: Past Recipients (1955- )
2011: Gregory and Kathy Geoffroy
2010: Dick and Marijo Marshall
2009: Richard and Deborah McConnell
2008: Mike and Karon Lacey
2007: Bill and Judy Hoefle
2006: Don Voelker
2005: Jerry and Nancy Hall
2004: Cecil and Dorothy Rueter
2003: Dick and Sandy Horton
2002: Rod and Connie French
2001: Dick and Jan Seagrave
2000: Stewart Burger
1999: Al and Sara Sorensen
1998: Barb Houck
1997: Jack and Dilla Cosgrove
1996: Erb and Marge Hunziker
1995: Dr. Jon Fleming
1994: Rich Severson
1993: Kathryn Engel
1992: Mal Schmidt
1991: Isaiah Harris
1990: Dr. William Bliss
1989: Lydia Adams
1988: Bernard Simmons
1987: Robert Eddy
1986: Richard Grant
1985: Robert Parks
1984: Dorothy Erskine
1983: Ralph Engel
1982: Raymond Engel
1981: Deane Gunderson
1980: Walter Neumann
1979: Carroll Lane
1978: Dr. James Hilton
1977: Herman Holmes
1976: Robert Wright
1975: John Ruan
1974: Dean Knudson
1973: Sam Hamilton
1972: Ray Hagle
1971: Ray Donels
1970: H.D. Wilson
1969: Al Hagen
1968: Lloyd Bock
1967: George Henningsen
1966: Don Kaser
1965: Claire G. Mason
1964: Ted Aulmann
1963: Dr. Russell Anthony
1962: Ralph Olsen
1961: Leo Fitzpatrick
1960: H.R. Hilstrom
1959: Carl Bluedorn
1958: Harry Hoak and J.D. Armstrong
1957: Charles Shirey
1956: Waldo Wegner
1955: Orville Crowley
PEP RALLIES
The Homecoming pep rallies have been an integral aspect of building spirit for the Homecoming games since the very beginning. Pep rallies were a regular aspect of pre-football activities at Iowa State when Homecoming first began, and took place at that very first Homecoming in 1912. The Homecoming pep rallies traditionally are Friday evenings.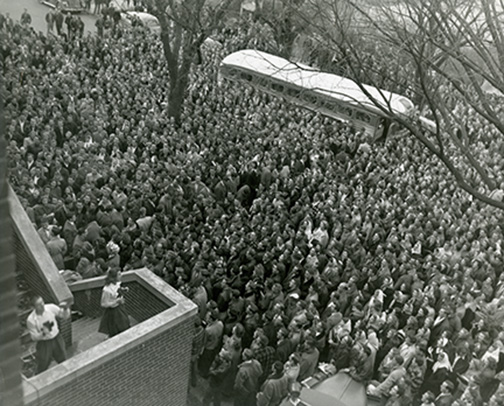 1949 Homecoming Pep Rally
The early pep rallies were exciting gatherings, and traditions would come from these first Homecoming rallies. A number of the early Homecoming rallies were lucky to have members of the original 1892 football team attend the spirited assemblies. The early pep rallies often had various speakers from campus, including the President. Music was often given by the band, glee clubs, and the A-M-E-S Quartet. In 1923, the band marched to the pep meeting and then at the end marched to town followed by students, alumni, and faculty. In 1915 the Cardinal Guild organized a monster pep rally called the "Pepperfest" for Thursday evening.
A year later the traditional "Beat Iowa" pep rally took place for the 1916 Homecoming game against Iowa, except at this pep rally many members of the original 1892 football team were present. 4,000 Iowa State supporters attended and Dean Stanton, first graduate of Iowa State, spoke at that rally (Stanton had spoken at every "Beat Iowa" pep meeting since football had begun at Iowa State). Members of Iowa State's original football team marched around State Gym's floor to the fight song.
Activities for Homecoming 1917 were more subdued than normal on account of the war. However, instead of the more usual indoor pep meeting in the gym an open air pep meeting took place in front of Central Building (now Beardshear Hall). Students had requested that an outdoor activity be scheduled, and their request was granted.
On the years Iowa State played Iowa for homecoming, the traditional "Beat Iowa" pep rallies were held. These rallies were especially full of spirit for the upcoming game against our own state rival. For the 1920 Homecoming festivities, members of the original football team of 1892 were present. At that 1920 "Beat Iowa" pep rally, the original Iowa State quarterback, Bert German (and later the coach in 1894), gave an encouraging speech to fire up the crowd. He was the alumni "toastmaster" and gave rallying talks at other Homecoming pep meetings as well. These early pep rallies often had bonfires as a traditional part of the occasion.
Occasionally, even more than one pep rally took place for the Homecoming football game. In 1921 the Double A fraternity organized not one, not two, but three pep rallies. According to the Monday, November 14, 1921 issue of the Iowa State Student, this was "probably the most extensive in recent years". Plans included a Wednesday pep meeting from 7-7:45pm in the field north of the varsity tennis courts (Superintendent Tom Sloss was to furnish material for a bonfire), Thursday's nights pep rally was held in the traditional location of State Gym, and the third and last meeting on Friday evening was also held in State Gym. The football players were to speak at the bonfire on Thursday evening, and other speakers were secured for the State Gym pep rallies including Winifred E. Tilden (head of Women's Athletics) and football coach W. W. Mayser.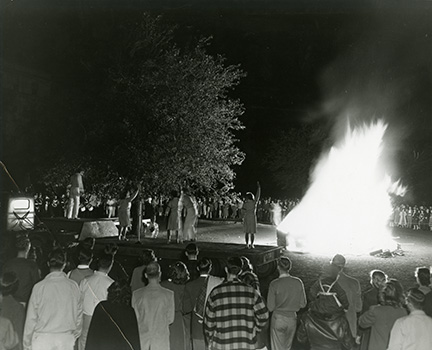 1948 bonfire at the pep rally.
Barbeques eventually became a part of the pep rallies, which were often called "pep barbeques". During the earlier years of Iowa State, an annual all-college barbeque had been a traditional part the fall semester. With the coming of more formal dances and social activities, the barbeques had ceased to take place. Alumni and faculty missed these traditional barbeques, and it was decided to revive this tradition for the Homecoming pep fest.
The first all-college Homecoming barbeque, the Barbeque Pep-Fest, took place in 1930 on Friday evening at 5:30, in the field which at that time adjoined the Armory. Beef, beans, apples, and coffee were all a part of that first Homecoming barbeque. 1,000 pounds of meat were at the barbeque, and 3,000 people attended. Ames residents were also encouraged to attend. According to a quote in the October 30, 1930 Iowa State Student, this was thought to be the most food served on campus in slightly more than half an hour. At least during the early years of these Homecoming barbeques, it was traditional for sororities, fraternities, clubs and dormitories to not serve dinner that evening in order to encourage attendance at the barbeque. In 1932, an hour after the food was served four buglers with cardinal and gold capes began the pep program which followed the barbeque.
The Homecoming barbeques became known as "Hamburgers for Homecoming", but in 1942 the barbeque was called "Wieners in Wartime" due to shortages of ground meat during World War II. There was no Friday evening barbeque in 1943 due to the war, although the traditional pep rally and bonfire took place at the stadium. Themes occasionally were a part of the Homecoming barbeques. For instance, there was a picnic theme for 1958 and a 1920s theme in 1959. Over time, the bonfire and pep barbeques disappeared. The bonfire ceased in the mid-1960s, and the pep barbeque disappeared in 1970. New traditions were taking their place such as Yell-Like-Hell, concerts, and other activities. However, the bonfire occasionally appeared at Homecoming events in the 1980s and 1990s. Instead of the barbeque, today we have the Cyclone Central tailgate at the ISU Alumni Center before each home game, including Homecoming. "Food on Campus" is now an annual tradition, with a meal being served each day on central campus to those with a Homecoming button.
The band and cheer squad have almost always appeared at pep rallies, but other activities have surfaced throughout the years in addition to those described above. In the 1950s, a tandem bike race hosted by the sororities took place just before the beginning of the rally. In 1954, the burst of three aerial bombs sounded the beginning of the rally, and a short parade through campus followed. Firework displays have also taken place, and at the 1962 pep rally Miss Iowa crowned the Homecoming Queen. The list could continue, and will continue for years to come. The pep rally remains in full force to this day and still holds true to its original purpose: firing up Iowa State fans for the Saturday Homecoming game.
yell-like-hell
Yell-Like-Hell was introduced to the Homecoming activities at Iowa State in 1963. Other colleges, such as the University of Wisconsin and Washington University, already had similar events that the students enjoyed so the Homecoming Committee members proposed it for Iowa State. For that first 1963 Yell-Like-Hell competition, any residence hall could submit an original yell, and the finalists would present their submissions at the pep rally on the Friday night of Homecoming week. The intention of Yell-Like-Hell was to raise the spirits of the football team for the Homecoming game the following day, and the success of that original aim is reflected in the continuing tradition of Yell-Like-Hell every Homecoming week since. Yell-Like-Hell has changed throughout the years, but continues to be a chance for groups to show their Iowa State spirit.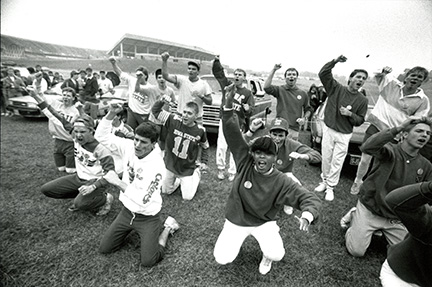 1987 winning Yell-Like-Hell skit by Alpha Kappa Alpha and Delta Sigma Phi.
During its first years, the Yell-Like-Hell competition consisted of a ten minute skit, poetry reading, and a cheer. By the mid-1970s the short skits included Iowa State superstitions, campus buildings, football rivalries, and other Iowa State traditions. By 1970, there were separate preliminary competitions for Greek houses and dormitories. The dormitory competitions soon died out, but in 1986 the residence halls returned to the competition for a number of years. However, by 2002 the residence halls no longer participated in Yell-Like-Hell. In 2001 "Cyclone All-Stars" was created, in which students in both off-campus housing and residence halls produced a shorter Yell-Like-Hell skit. However, 2001 was the last year residence halls participated in Yell-Like-Hell.
The Yell-Like-Hell contest was judged on content, the excitement shown by the contestants, and the spirit they displayed towards Homecoming. By the late 1980s, contestants were judged on additional criteria such as how well they displayed school spirit and their use of school colors. The use of school colors addition to the Yell-Like-Hell competition criteria would lead to the tradition of participants covering themselves with cardinal and gold from head to toe. Improvisation was added in 2001 when participants were given a word immediately prior to their performance which they needed to incorporate into their skits, and they were judged on how effective they did so.
Today, Yell-Like-Hell remains strong as a Homecoming tradition. The student-performed skits contain chants and cheers and continue to demonstrate Iowa State pride and spirit. Judged on enthusiasm, creativity, and school spirit, the skits need to represent the Homecoming theme and the Iowa State fight song. The finalists perform at the Friday evening pep rally for alumni, students, and community members - helping show their Iowa State spirit and inspiring others to do the same for the Saturday football game!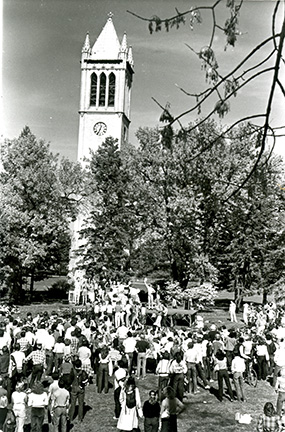 1980 Homecoming Yell-Like-Hell competition in front of the Campanile.
FIGHT SONGS
Iowa State has had a variety of fight songs through the years, and below are a few which are associated with Homecoming history.
"Fight, Ames, Fight"
"Fight, Ames, Fight" emerged in 1920. Both the words and music to a new song, entitled "Fight, Ames, Fight" was written that year by Charles Bassett, senior animal husbandry student. The arrangement was made by Marion Lucille Bassett. For the first use of the pep song at the 1920 Homecoming "Beat Iowa" pep rally, band parts were written for the entire 56 piece military band (within one week, according to the November 17, 1920 Iowa State Student) and the words were sung by the A-M-E-S quartet. Another version of "Fight Ames Fight" was also written, in addition to a poem.
Also in 1920, the Senior civil engineers designed an electric sign with the phrase "Fight, Ames, Fight" which appeared each evening from the building known at that time as Central Building (now Beardshear Hall). The words were stacked one on top of the other. Monday before Homecoming the sign appeared with a steady glow, but on Tuesday each word lit up one after the other with the top one, "Fight," lighting up first. Then all three words were lit together, followed by the alternating sequence again. Not only did the civil engineers design the sign, but they also paid for this "advertising" as well (three dollars per senior civil engineer). For several years after 1920, often at a later point in the week, senior civil engineering students would erect the "Fight Ames Fight" sign on Beardshear.

Ames is used instead of Iowa State because, at least in the early years, Iowa State was frequently referred to as "Ames" in order to avoid confusion with the University of Iowa. The letter "A" was awarded to varsity athletes and participants in the Women's Athletic Association was an "A" rather than an "I" until 1929.
Fight Ames Fight
Words and Music by Charles F. Bassett, Class of 1921.
Arrangement by Marion Lucille Bassett.
Copyright 1920 by George S. Bassett.

We're a bunch of loyal boosters for our Alma Mater Ames,
Best college in the U.S.A., the one that wins its games,
We're here to help the Cyclones, with our yells and spirit too,
Just watch them while they buck the line, and see them go right thru.
Now a Cyclone's mighty dang'rous when it strikes a western field.
It tears up ev'rything in sight, what's in its way must yield!
Now watch OUR Cyclones "clean them up" in football, wrestling, track!
They do not know what it is to fail, for fight they NEVER lack.

Chorus:

Fight Ames, oh fight you warriors tried and true,
Fight Cyclones fight, we're proud of you,
For when you fellows take the field you start in right.
Before you're done the game is won for you can fight!
Fight Cyclones fight and we will win this game.
Fight fellows fight, fight all the time!
You're got the "rep" and "pep" boys, so keep on fighting,
Fight Ames! Fight all the time.
Fight Ames Fight
Words by S. Minnich
Arranged by Rosalind K. Cook
Fight Ames fight, fight Ames fight,
Fight for Ames with all your might,
For the glory of old I.S.C.
Swing along, sing a song,
With a spirit big and strong,
And our fighters will win victory.
Chorus:
For its fight, fight, fight for the good old I.S.C.,
Winning great glory and fame.
And where'er we go, they will always know,
That our fighters are fighting for Ames.
"Fight! Ames! Fight!" was used as a marching song by the Iowa State men who served in the 168th Infantry during World War I. The song inspired a 1917 Harvard graduate, Harold Williard Gleason to write the following poem:
Fight Ames Fight
Fourth down, three, and the tension grows-
Stands are hushed-then the eager crowd
In the stadium, rows on rows,
Voice their war cry in cadence loud;
Crouching linemen react like springs;
Backs drive forward, the ball clutched tight
Nerved anew as the chorus rings
Over the chalk lines, "Fight! Ames! Fight!"
Fog and mud and a cheerless dawn;
Whispers pass through the sullen rain-
"Two minutes more, boys! Pass it out!"
Then-a whistle shrills-ends the strain;
Rattle of stones from the parapet
As soldiers scrambled to left and right
Mounting; eyes flashing brighter yet
At the heart stirring slogan, "Fight! Ames! Fight!"
Thus they answered when honor called,
Giving all to their country's needs;
Leaving their college stately walled-
Blazing her name with splendid deeds.
Heroes, late of the football field,
Doing battle for God and Right,
Shoulder to shoulder, never to yield,
With their glorious war cry, "Fight! Ames! Fight!"
"State College of Iowa"
For the October 18th Homecoming game in 1924, a new tradition began. As the teams left the field, everyone was to stand and sing "State College of Iowa" (at that time the college anthem). It was hoped that not only would the singing of the college anthem at the end of the game promote spirit, but would be a fitting climax of the yell program.
State College of Iowa
Words by E.N. Wentworth ('07)
Music by Ed Chenetta
State College of Iowa, we give to thee
Our allegiance the strength of our lives
We will follow thy mandates, endeav'ring to be
True sons when engaged in world strife.
May the mem'ries of joy, that now we must leave
And the triumphs of Card'nal and Gold
Make lighter life's labors and victories won
In thine honor preceptress be told.
Brightest star that shall ever illumine our sky,
Be our hope, be our strength and our shield;
Though oft'times the dark clouds our bold courage may try,
Alma Mater! They sons will not yield.
Light our paths, lead us on, make clearer our way,
May thy glory nor fame ne'er decline,
Oh! Iowa's Queen, though the fairest of all,
Our hearts and our names link with thine.
The lyrics to Iowa State's college songs have frequently been distributed at Homecoming. Below is one which was distributed by the Cardinal Guild at our third Homecoming in 1915: